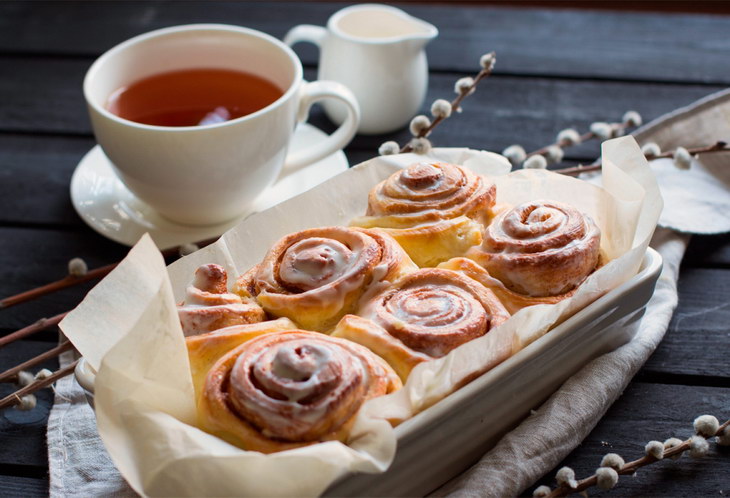 A good addition to tea. For filling cakes, cream cheese is used, which gives the bowl a special softness and piquant.
ingredients:
270 g of flour; 1 egg; 100 g of sugar for the dough and 80 g for filling; 120 g heavy cream; 5 g dry yeast; 50 g butter for the dough and 25 g for filling; 75 g cream cheese; 1 tbsp. l. cinnamon; 1 tsp. cocoa; 2 tbsp. l. powdered sugar; 4 walnuts (can be replaced by others).
preparation
Warm 100 grams of cream, add yeast, 1 tsp. sugar, mix and put in heat for 15 minutes.
Lubricate soft butter with sugar until fluffy smooth, gently add egg. Pour the pulp into hot cream, mix, add sifted flour into a spoon. When the dough becomes thicker, knead it with your hands.
The dough should be smooth and not stick to your hands. Cover the dough and let it warm for half an hour. Then rolled in a rectangle, brush with butter, sprinkle with sugar, cinnamon and cocoa.
Fold the dough into a roll, cut into pieces and place the prepared back plates. Leave approx. 20 minutes walk past, the hot oven no more than 180 degrees, baked for half an hour.
During this time, mix into smooth cream cheese with powder and 3 tbsp. l. heavy cream. Heat the buns to get out of the oven and lubricate on the slope, garnished with chopped nuts on top.
Photo: from open sources
cooking recipe baked goods